How to

Restore XP Backup to Windows 7
Are you getting error message while restoring XP backup files in Windows 7?
"Backup File Contains Unrecognized Data and Cannot be Used"
Get the answer how to restore XP backup to Windows 7 by resolving "backup file contains unrecognized data" error message with advanced BKF file recovery software that allows users to restore XP BKF in Windows 7 in the most appropriate way.

Rating: 9.6 out of 10 based on 63 reviews
Review Rating: -/10
User Ratings: 9.6/10 (Metascore: 96,4/100)
Overall Product Ratings: 10/10 (63 votes cast)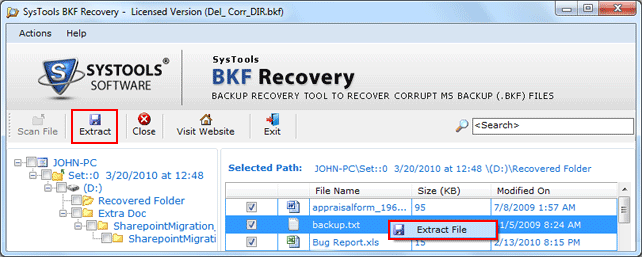 NTBackup - The Built-In Backup Utility: In Microsoft Windows, NTBackup is the built-in backup utility system that is made available to Windows users to protect and safeguard their crucial data from getting lost in times when corruption affects the original files. You can create backup copies of your original files and folders using this backup system. Originally, NTBackup was introduced with Windows NT Operating System version and later on, it was made a part of all subsequent Windows NT versions up to and including 2000, XP and 2003.
NTBackup is Not a Part of Windows 7
But

We Have the Simplest Way to Install NTBackup.exe Utility in Windows 7
In Windows 7 and later Windows versions, NTBackup is replaced by the 'Windows Backup and Restore Center', which uses the Virtual Hard Disk (VHD) file format. Here, the backups are supported to modern storage media (like DVDs and image-based full system backups).
Downloading NTBackup: If you want to restore older backups in Windows 7 (for example, if you want to restore XP backup in Win 7), Microsoft has given the facility, wherein, you can download NTBackup, which is made available at the Microsoft website.
or,
Just follow these simple steps to install NTBackup.exe utility in Windows 7"
Create a new folder on Windows 7 like C:\Program Files\NTbackup and place these files
C:Windows\System32\Ntbackup.exe
C:Windows\System32\Ntmsapi.dll
C:Windows\System32\Vssapi.dll, on NTbackup folder.
You can download these files by extracting nt5backup.cab file » Download nt5backup.cab
NOTE: After extracting required files on Windows 7, start Removable Storage Service.
Alternate Method to Install NTBackup:
Given below are some simple steps to install NTBackup utility on your system:
First of all, you have to insert the Windows XP Installation Disc into the CD-ROM drive of your system
Then, right click the "Drive" icon
Now, you have to select "Explore"
After that, you must navigate the location – CD drive:\VALUEADD\MSFT\NTBACKUP
And then, open Ntbackup.msi file
Finally, by following the prompted messages, you can install Ntbackup.msi on your system

How to Restore XP Backup in Windows 7? In Windows 7, you must have installed ntbackup.exe utility in Windows to restore XP BKF files in windows 7 with perfect manners. After downloading NTBackup, you can get a third-party BKF recovery tool to restore XP backups. Restoring XP backup in Windows 7 would involve two steps – first to install NTBackup and second to install a third-party backup recovery tool if your BKF file is corrupted or damaged. After installing NTBackup, you will be able to read BKF files in Win7. You can download NTBackup from Microsoft website free of charge.
Restore Windows Backup in Windows 7: The Windows 7 restore of XP backup process can be easily performed after installing NTBackup as described in detail above. You can use a third-party backup recovery tool like BKF Repair software to restore BKF files.