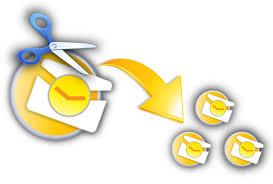 Split

PST Software & Tools
Split Large PST Files to Smaller Outlook PST
Be familiar about the working process of Split PST with the excellent tool "how to divide PST files" for easy to uses. Download Demo version of Split PST software at Free of cost and breal PST files easily. But this trial version is capable to Split only 50 items of selected PST folders. After satisfaction of DEMO, purchase Full version only at $49 and business licenses only at $129.
How to Divide PST Files?
Have you been using Outlook email application for a long period of time and storing all your crucial email data in it?
Has your Outlook speed decreased considerably because of large sized PST files?
Is this decreased speed of Outlook creating trouble for you?
Are you irritated due to large sized PST files collected in your Outlook email application?
Do you want some feasible solution to get rid of this trouble due to large sized Outlook PST files?
Break PST Files : Long usage of Outlook results in augmenting PST file size, which hampers your work. You can kick away this problem by tearing huge sized PST files into smaller parts, thereby reducing the file size, which in turn increases the speed of Outlook. You need to use some effective outside tool to split large PST files into smaller sized PST files.
Divide PST Files Using Third-Party Tool : To divide large sized PST files, you need some efficient outside tool, which can speedily divide large sized PST files into smaller sized PST files. You can rely on Split PST software for this purpose, as it can help you divide oversized PST files easily and rapidly, so that you can carry out your important emailing operations in Outlook again with same rapid pace.