Open Office Document Recovery Tool
Open Office Writer Recovery Tool is available to you in the FREE Demo Version. It is a functional working demo of our product which will help you see our software, try it on your system and evaluate its efficiency. Using this Demo Version, you can see the ODT recovery process and can preview the recovered contents but cannot save the repaired .ODT files to your system. For saving the files, you need the Full Licensed Version of our software.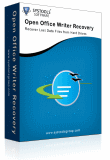 Starting @ 29 USD
Open Office Writer Recovery Tool to Recover Corrupt ODT File Information.
Open Office application, developed by Sun Microsystems, supports many Operating Systems like Windows, Mac, Linux and more. Most of its features and usage is much similar to Microsoft Office. It has multiple components (Writer, Impress, Calc, Base, Draw, Math etc). One of its components, Open Office Writer 9similar to MS Word), is a fully equipped word processor used for document creation (letters, newsletters, reports, brochures etc) that stores information in ODT files.
ODT Files Corruption - Errors Encountered: ODT files are also prone to corruption, which can happen due to various uninvited and unavoidable causes. If you try to open these corrupt ODT files, you might see some error messages on your screen. If you face such corruption problem, then you can use Open Office document recovery tool to recover corrupt ODT files instantly. This Open office file repair tool works in most corruption cases. Some of the common errors that might emerge after corruption are as follows: