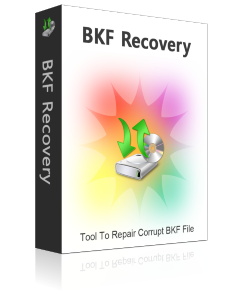 How to View Contents of BKF File – Help Served Via

Three Scans
How to view contents of BKF file? Without repairing the corrupt backup file one cannot view its contents. And the BKF Recovery application served by us helps user to recover corrupt backup files as well as view the contents of a corrupted BKF file. This reliable application was designed to ease the recovery procedure and save the time taken usually in recovery. Suppose a user wants to recover selected corrupt file from the bunch of files then question arise how to view contents of BKF file. Then via this authentic BKF file opener tool user can view his database before restoring the repaired BKF file contents.
With this advance application non-technical user can also recovered data from corrupted backup file with three scanning options.
Quick Scan: With this option user can save his time as well as effort and recover his data saved in BKF files quickly.
Deep Scan: With deep scan user can remove all the errors and recover files without affecting the data saved in.
Range Based Scan: With this scanning option user can do the range based recovery of backed up data.
From the entire scan options; deep scan option is recommended highly as because with deep scan option user can recover his MS backup files even if they are headed with the severe corruption or error message. With this option user can ensure complete recovery.
How to View Contents of BKF File Technically?
With this technically advanced software user can preview corrupt backup files. This application owns all the advance features that are suitable for a complete BKF repair tool, such as:
This is a supportive application. Thus this application can be downloaded with any version of the Windows OS including 10, 8.1, 8, 7, Vista, XP and after installing it user can get the answer of how to view contents of BKF file.
This comprehensive bkf file recovery tool can be used to recover pictures, XLS sheets, video files, movies and other items also.
Errors flashed on the screen can be removed effectively such as "The backup file contains unrecognized data and cannot be used", "The backup file is unusable."
Non technical user can also work with this tool as this tool comes with self explanatory steps.